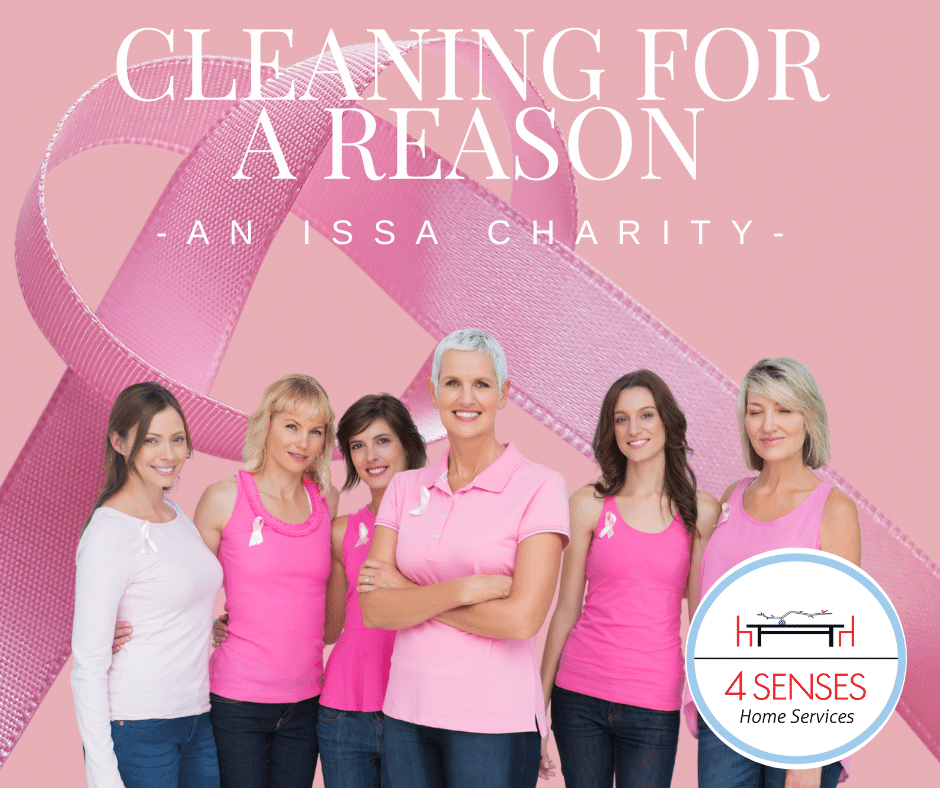 October 4, 2023 5:11 am
At 4 Senses House Cleaning, we understand the importance of a clean and healthy home. But we also recognize that not everyone can maintain a clean living space, especially individuals battling serious illnesses like cancer. 
That's why we are proud supporters of the Cleaning for a Reason Foundation, a non-profit organization dedicated to providing free house cleaning services to people undergoing cancer treatment. 
In this blog, we'll explore our ongoing partnership with this exceptional foundation and why we are deeply committed to giving back to our community.
What Is Cleaning for a Reason?
Cleaning for a Reason is a remarkable organization that connects professional cleaning companies with cancer patients in need. Their mission is simple yet incredibly impactful: to offer the gift of a clean home to those facing the challenges of cancer, providing them with much-needed relief and support.
Why We Got Involved?
Our commitment to excellence extends beyond our cleaning services at 4 Senses House Cleaning. We believe in the power of community and in supporting those who are going through difficult times. When we first discovered Cleaning for a Reason in 2019 and learned about their mission, it instantly resonated with our core values. We knew we had to get involved.
Our Partnership in Action
Since 2019, we've had the privilege of collaborating with Cleaning for a Reason, offering free house cleaning services to cancer patients in Madison, WI, and surrounding areas. It's our way of contributing to their well-being and providing a clean, safe, and comfortable environment where they can focus on their health and healing.
If you or someone you know is currently undergoing cancer treatment, please reach out to Cleaning for a Reason Foundation. They can connect you with us at 4 Senses House Cleaning, and we will gladly provide free cleaning services to support you during this challenging journey.
At 4 Senses House Cleaning, we take immense pride in our support for the Cleaning for a Reason Foundation since 2019. Our enduring partnership allows us to extend our commitment to cleanliness and well-being to those who need it most. 
Together, we can create a world where everyone, even during their toughest times, has access to the comfort of a clean home. We invite you to join us in supporting this wonderful cause and making a positive impact in our community. We can make a difference—one clean home at a time.
Categorised in: General
This post was written by 4 Senses House Cleaning