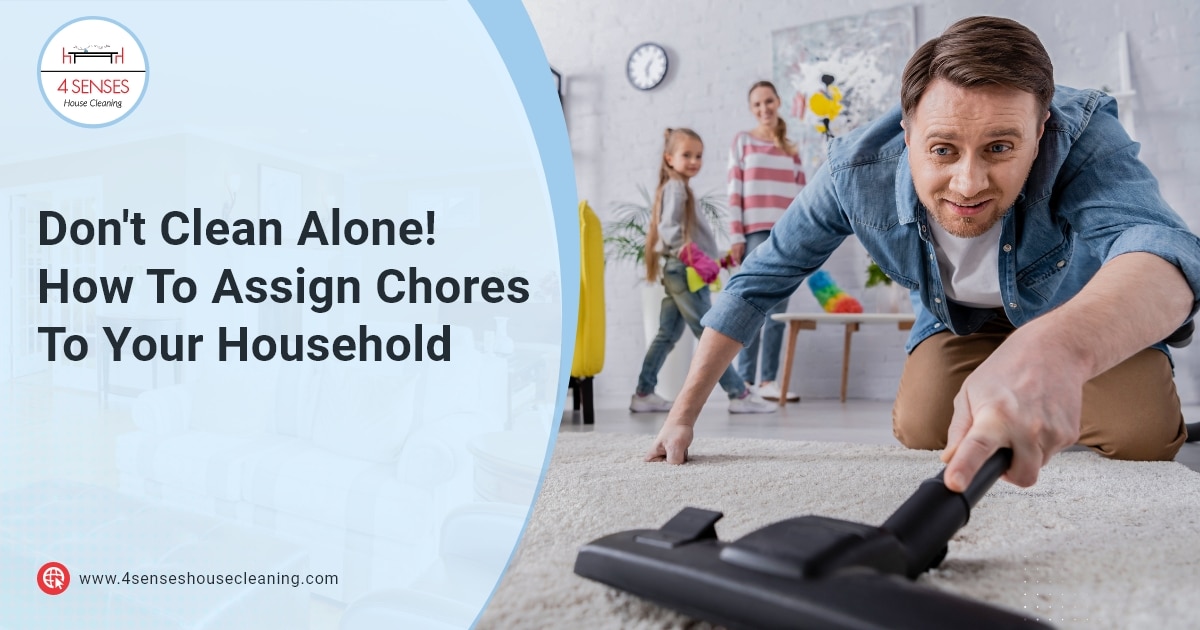 January 10, 2022 12:00 am
Are you ready to spend all day cleaning? Nobody has time for that! However, if you choose to neglect the chores, you'll be living in a messy home. 
Then, what to do? You can let your entire household help with the cleaning! When everyone takes part in the housework, even if they help a lot or a little, it lightens the burden. 
However, managing the cleaning tasks with your entire household is easier said than done. Learn here how to assign chores to your family members!
Are you supposed to keep up with the chores?
Often, one person is in charge of most of the cleaning tasks. While it can work for some households, keeping the house clean shouldn't always be a concern for just one person.  
No matter how busy are the other household members, there must be something they can do. Even the little children can help—just be sure to delegate them age-appropriate chores.
How to assign chores to your household
As said before, delegating cleaning tasks to your family is easier said than done. However, you can do some crucial things to ensure everything goes smoothly. 
Here are the steps!
1. Make sure everyone has the same expectations
Something may seem "dirty" for you, while for others could be "clean enough."  If you live with your partner or other adults, you need to agree about your cleaning expectations. Often, it is a matter of discussing it and finding the middle ground.
2. Discuss the chores (or assign them by yourself)
The way you organize the chores depends on your household. For example, when you let kids help you with the cleaning, you know best what chores they can manage. You can assign them tasks, but be sure to explain why cleaning is important! 
On the other hand, assigning the chores can be more tricky when you live with other busy adults. Here are some ways to divide the tasks that could work in your household:
Rotate the chores:

You can rotate the chores nobody wants to do—like scrubbing the toilet! This way, it won't feel unfair!

Let people pick:

Sometimes, other people don't mind doing tasks that are unbearable for you! Let your household members choose a couple of chores to take care of.

Ask for help:

Maybe you are the one taking care of the housework in your family, but that doesn't mean others can't help out! Don't hesitate to ask for help with specific chores. 
3. Set the new cleaning schedule in a chore chart
The most challenging part of dividing the chores isn't assigning tasks to each household member; it is actually doing them! 
The key to following through with the plan is to make a clear chore chart and place it where everyone can see it. Besides, the chore chart needs to be appealing if you want to get your kid's attention.
Also, be consistent! Don't clean if other people it's supposed to clean.
Why bother? Instead, hire a reliable cleaning service.
Sometimes, the entire household is just too busy to clean. However, you can always count on 4 Senses House Cleaning to do the chores! We are a local company serving Madison with reliable, high-quality cleaning services! 
Book your cleaning service directly from our homepage!
Categorised in: Cleaning Tips
This post was written by 4 Senses House Cleaning