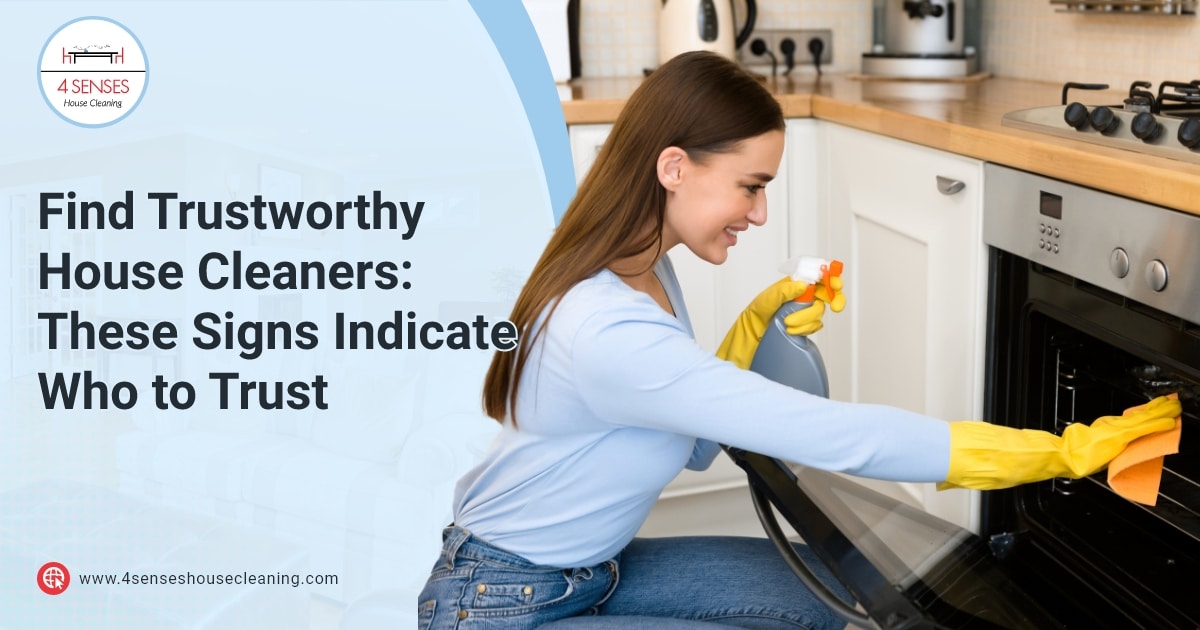 December 13, 2021 12:00 am
Nowadays, many homeowners use cleaning services to keep up with their cleaning needs. 
You may hire a Top-rated cleaning company in Middleton or a cleaning company for your regular chores or one-time deep cleaning. However, one thing is for sure: you need to know they are trustworthy! It's not a surprise; when you hire a cleaning service for the first time, you are letting a stranger into your home!
However, when you pay attention to small details and hints, you can identify a reliable professional—and which ones you should skip! 
Here are five signs to help you spot a trustworthy cleaner! 
1. Clear information about the services
A trustworthy professional cleaner should always be honest and transparent about what they offer you. Otherwise, you might hire a service that won't cover your home's cleaning needs. 
Before buying a product or hiring a service, you need to know what you are getting, and it's the same with cleaning services. Not every cleaning service includes the same tasks, and each cleaning company might have different terms in which they offer their services. 
2. The business seems right
Every cleaning company has to comply with its obligations. If a business doesn't pay taxes, it may not affect you directly. However, what if they are hiding that they use subcontractors? Or worse, what happens if they send you uninsured cleaners and an accident happens? 
A trustworthy cleaning company does everything by the book. If you find any hint that they are doing something under the radar, take it as a warning sign!
3. A reputable name 
If a cleaning company has been servicing your area for a long time, people will speak about them! And when the cleaners are reliable, everyone will refer the service to you! If a friend or family member recommends you a cleaning service, they are likely trustworthy!
Nowadays it's easier to learn what people say about a cleaner. You can visit sites like Yelp! or Facebook to find reviews and ratings! For example, at 4 Senses House Cleaning, we are proud of all the love we receive back. 
4. Quality equipment and supplies
A professional cleaner can do wonders…if they have the right equipment and supplies! A trustworthy cleaning professional should have up-to-date tools like HEPA-filter vacuums and high-quality microfiber cloths. 
Also, cleaning products are essential! There is a big difference between harsh chemicals and green, non-toxic cleaning products. Trust only on cleaning companies and professionals that invest in high-quality supplies!
5. Bonded, insured, and guaranteed services
A skilled cleaning professional can deliver high-quality results, but a trustworthy cleaner understands that mistakes happen. If the cleaning company is bonded and insured, you can ensure that every mishappening is covered. 
Also, reliable professionals guarantee their services, so you should ask your cleaning company what would happen if you are not satisfied with the cleaning!
You can trust 4 Senses House Cleaning!
Let 4 Senses House Cleaning exceed your expectations! We are a local, family-owned cleaning company in Madison with over 15 years of experience. We offer transparent pricing, safe payment, and top-quality cleaning services. 
All our cleaners are thoroughly vetted and background-checked so you can be sure only the best enters your home!
Categorised in: General
This post was written by 4 Senses House Cleaning