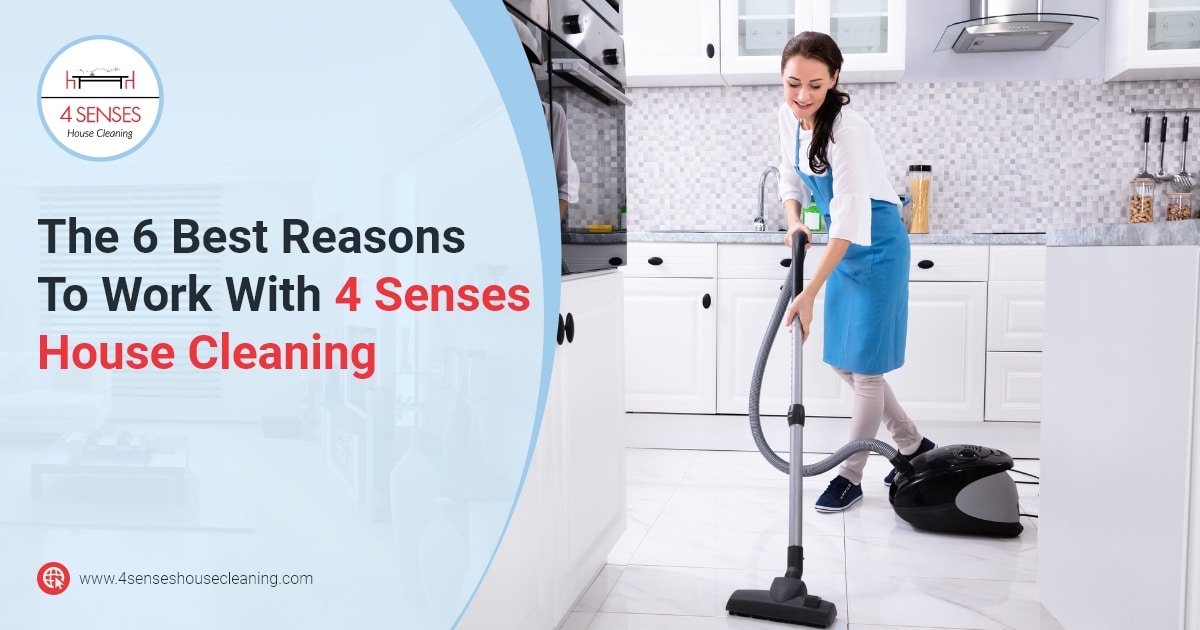 August 10, 2021 10:51 am
Working in a cleaning company is rewarding… and you probably know that already!
Madison's prime cleaning company is always looking for new talent. Maybe you are the next professional cleaner in our company! Learn here the 6 reasons to work with us!
1. We are one of the highest-rated cleaning companies in Madison
Our cleaners feel proud of working with one of the highest-rated cleaning companies in Madison! They are part of a collaborative, fun, and positive team environment.
Our founders, Ewa Pluciennik and Mariusz Zalesski have a passion for healthy living, environmental care, and family! As a family-owned company, our core values are strong and carried on through the services. 
Learn more about our big family by clicking here!
2. You can make a living with 4 Senses House Cleaning
Loving your work is not enough. You have to be able to make a living out of it! We currently pay professional cleaners up to  $22.50 per hour, working from Monday to Friday from 8 am to 5 pm. You don't need to work all day and night to live a happy life!
Did we already mention the medical, vision, and dental supplemental insurance? We care for your health as you do!
3. You'll be improving the lives of our clients
In 4 Senses House Cleaning, we aim to deliver quality cleaning services and improve the lives of our clients in a significant way. Our professional cleaners can feel proud of the positive impact they make!
As an employee of 4 Senses, you'll not just make a living—we are proud partners with the non-profit organization Cleaning for a Reason! 
4. The tips are yours!
Going above and beyond gets rewarded! We are always happy to see our satisfied clients express their gratitude with their kind words or a little extra cash.
Of course, if you earned it, you keep it!
In fact, our clients can tip their cleaning professional in 3 different ways:
In cash, at the time of the cleaning.

From their online account with their credit card.

Or by contacting us through an email or call!
5. Our staff is always learning
Attitude is important, but skill too! Every cleaning professional in 4 Senses House Cleaning is always learning new tricks and honing their cleaning skills. 
Besides the training and education, we encourage positive feedback as part of work. Clients can leave their kind words to the cleaner's work after each service!
Are you an ever-learning cleaning professional? Apply now! You belong with us.
6. We value people like you!
In 4 Senses Cleaning Services, you won't be just filling a position. We look for people like you to add value to our services while growing as professional cleaners. 
We look for people who love to clean, work independently, and work hard! 
How does it all sound? Fill up a form now!
All this sounds perfect for you? Click here and fill up the form to start the journey. 
We treat every applicant as a potential member of our team. After applying, you can expect us to call you and start your process as soon as possible!
Categorised in: General
This post was written by 4 Senses House Cleaning