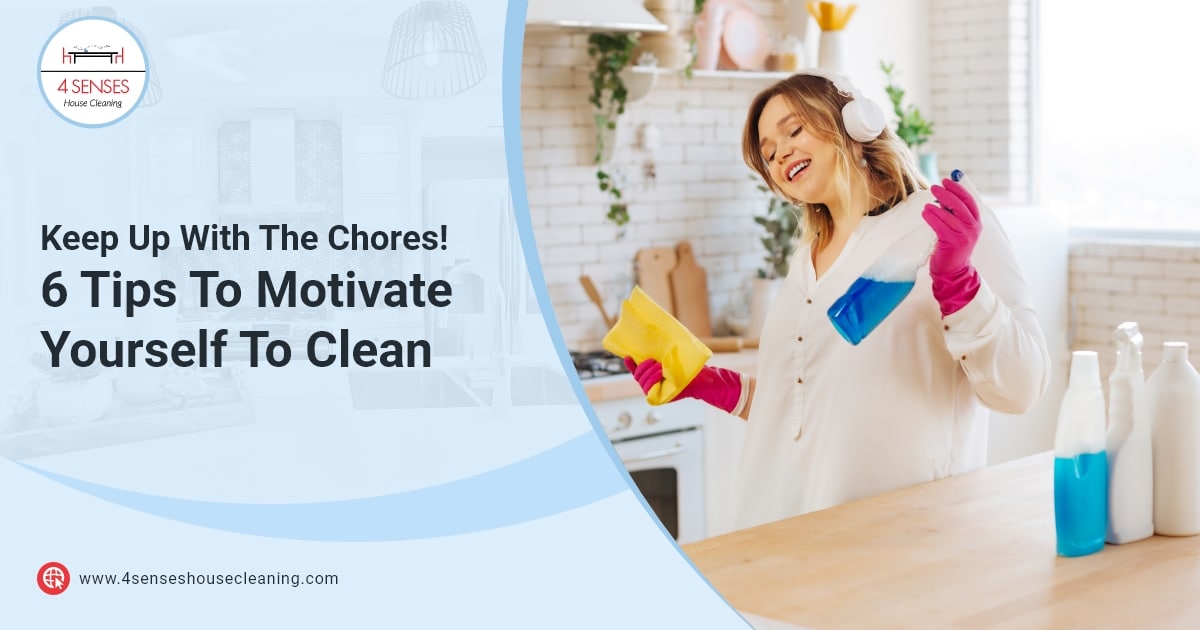 April 10, 2023 12:00 am
Not being in the mood is a good enough reason for skipping household chores from time to time. However, sometimes motivation loss can make it really hard to keep up with your cleaning duties, especially when your home desperately needs some love.
Here, we'll share with you six proven tips to help you recover your cleaning motivation. Check them out!
Tip #1. Set a due date to finish your chores
If you can't pick a moment to start cleaning, why don't you better choose when to finish?
In case you only get tasks done while under pressure, a close deadline will work better for you. However, if working like this is not your thing, you can set the date a little further. For example, a next-week deadline will relieve pressure by letting you complete tasks throughout the week.
Just be organized so you can finish everything on time and stress-free!
Tip #2. Invite your friends or family over
When you're not in a cleaning mood, you may not mind too much seeing all the mess, but what about other people running into your dirty furniture and dusty coffee table? Planning a gathering at your place sometimes can be that little push you need to finally clean.
Also, the idea of being in good company, with snacks and drinks, sounds like a good time—another wonderful incentive to leave your place tidy and clean.
Tip #3. Clean in short bursts
You can feel less motivated—even overwhelmed—if you have many pending chores due to the time they'll take. However, you can make the load more bearable by doing the job in small chunks.
First, set a 15-minute timer and start cleaning as much as you can—you can adjust this time as you see fit. Then, you can take a break between these time bursts. You'll see how doing chores becomes less cumbersome this way!
Tip #4. Make cleaning more enjoyable
Who says cleaning can't be fun? Although it won't be as exciting as riding a rollercoaster, cleaning can still be entertaining.
Playing music is a great way to have fun while doing chores. Therefore, put on your favorite songs or this feel-good playlist, and shake that broom with rhythm!
Also, if you like podcasts or audiobooks, you can play a pending episode or listen to a book you haven't found the time for. You'll finish your chores before you know it!
Tip #5. Minimize distractions
When it comes to cleaning, anything will seem better than doing chores—especially when you're not in the mood.
One of the worst offenders is your phone just because you can carry it everywhere. The solution then is pretty simple: store your phone in a hard-to-get spot (like in the farthest room from the one you're cleaning), so you need to make an extra effort to get it.
Now, if the TV is your true weakness, turning it off and placing the remote far from your reach usually does the trick. However, if you need the background noise, instead of playing a series, put some cleaning videos on Youtube—you might get new ideas from them!
Tip #6. Reward yourself
What better way to feel motivated to do your chores than getting a gift afterward? Every time you finish a set of tasks, treat yourself to something you like! Just remember, it doesn't need to be something big.
For example, if you fancy sweet treats, you could buy some ice cream but not eat it until you're done cleaning. That way, you'll have something extra to strive for and fulfill your cleaning responsibilities.
Extra tip: Get help from cleaning professionals
Is the mess too much for you? 4 Senses House Cleaning can take over the chores! Choose our deep cleaning package, and our team of experts will clean your home from top to bottom! After we're done, you'll feel a huge weight off your shoulders—we'll even wash and fold your laundry!
Categorised in: Cleaning Tips
This post was written by 4 Senses House Cleaning