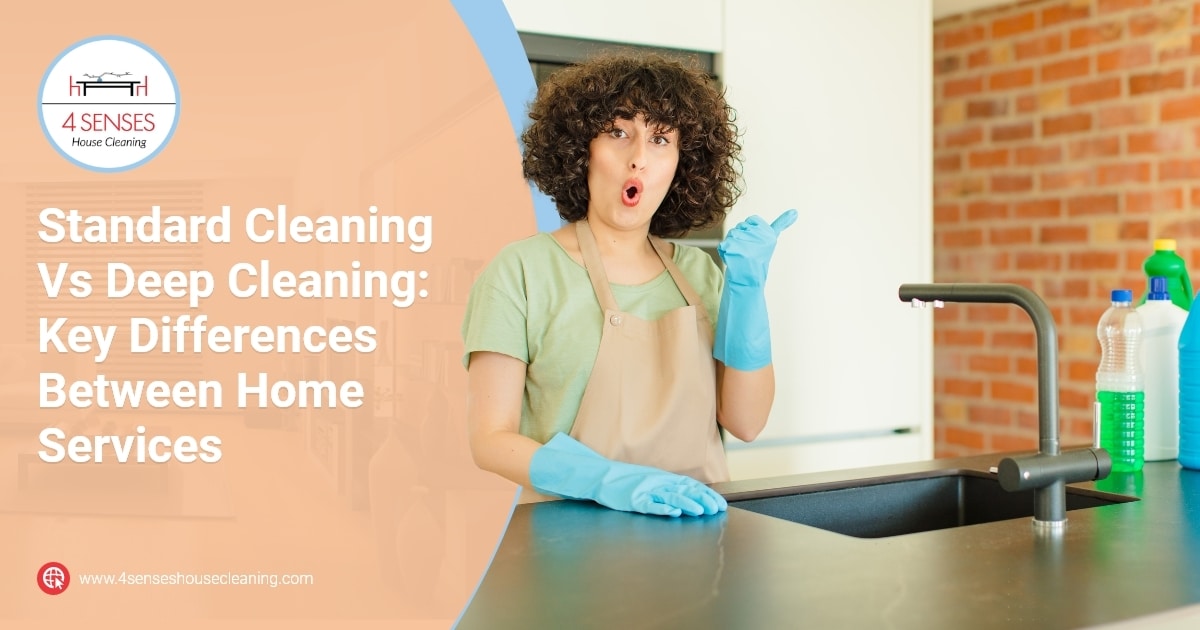 April 15, 2021 8:12 pm
Most cleaning companies offer a regular cleaning service and a thorough and more detailed home cleaning. Knowing the difference between these services could be tricky when you hire a cleaning company for the first time. Read this blog post to learn more about deep cleanings and standard cleanings and decide which is the best service for you.
The difference between standard cleaning and deep cleaning
Life can be busy, and cleaning your home from top to bottom could take just too much of your time. Homeowners can regularly vacuum, dust, do the dishes, launder, and wipe commonly-touched surfaces in their home. However, many time-consuming tasks are left out from the daily chores, like cleaning inside the kitchen appliances or dusting hard-to-reach spots behind furniture. A deep cleaning becomes necessary to catch up with these kinds of tasks. During a deep cleaning, the often-overlooked tasks are tackled.
The main difference between deep cleaning and standard cleaning is attention to detail. How often you should hire a deep cleaning or regular cleaning varies from home to home. Many homeowners deep-clean their homes when a new season arrives, every third month or so. As a general rule, never let a year pass without deep cleaning your home. Ideally, you should deep-clean every month to prevent bacteria and mold from growing in hidden places, reducing health hazards in your home.
On the other hand, regular cleaning is more affordable and should be enough for maintaining your home cleanliness. If professionals visit your home frequently for regular cleaning, more time could pass between deep cleanings without visible dust appearing.
Deep cleaning and regular cleaning room by room
Living room and bedroom
During your daily routine, you can maintain a neat and fresh living room and bedroom with quick cleaning tasks. Regular cleaning includes vacuuming carpets and hard floors, dusting major furniture, and mopping hard floors. However, professionals should pay extra attention to every furnishing and dive into hidden spots during a deep-clean. Vacuuming upholstery furniture is essential during a thorough cleaning. It should also include dusting knickknacks, ceiling fans, light fixtures, window sills, and baseboards.
Kitchen
Most homeowners wipe their countertops and appliances every few days (these are tasks included in a regular cleaning). However, during a deep kitchen cleaning, every knickknack and wall decoration is dusted. Professionally deep cleaning your kitchen can also include wiping cabinets, baseboards, and window sills. Regular cleaning can maintain a good level of cleanliness, but deep cleaning is necessary for removing the built-up grime in some appliances like the stove or fridge. Deep cleaning also can reduce foodborne germs.
Bathroom
Bathrooms are cleaned constantly and thoroughly. However, there are differences between a deep bathroom cleaning and a standard bathroom cleaning. During a deep cleaning, professionals should dust the door, cabinets, and vents. Scrubbing the grout in the shower is included in most bathroom deep cleaning checklists too! Without a deep cleaning every few months, mold could start appearing due to moisture.
Most cleaning companies recommend hiring their deep cleaning service if a professional cleaner hasn't cleaned your home in the past three months. After deep cleaning your home, keeping it spotless will be a breeze.
4 Senses Home Cleaning is happy to hear from you! We are a local cleaning company helping homeowners in Dane County with their housework chores. Visit our website to learn more about our cleaning services in Madison. Don't wait and win your free time back! Book your service online.


Read More Articles:
Categorised in: Uncategorized
This post was written by 4 Senses House Cleaning