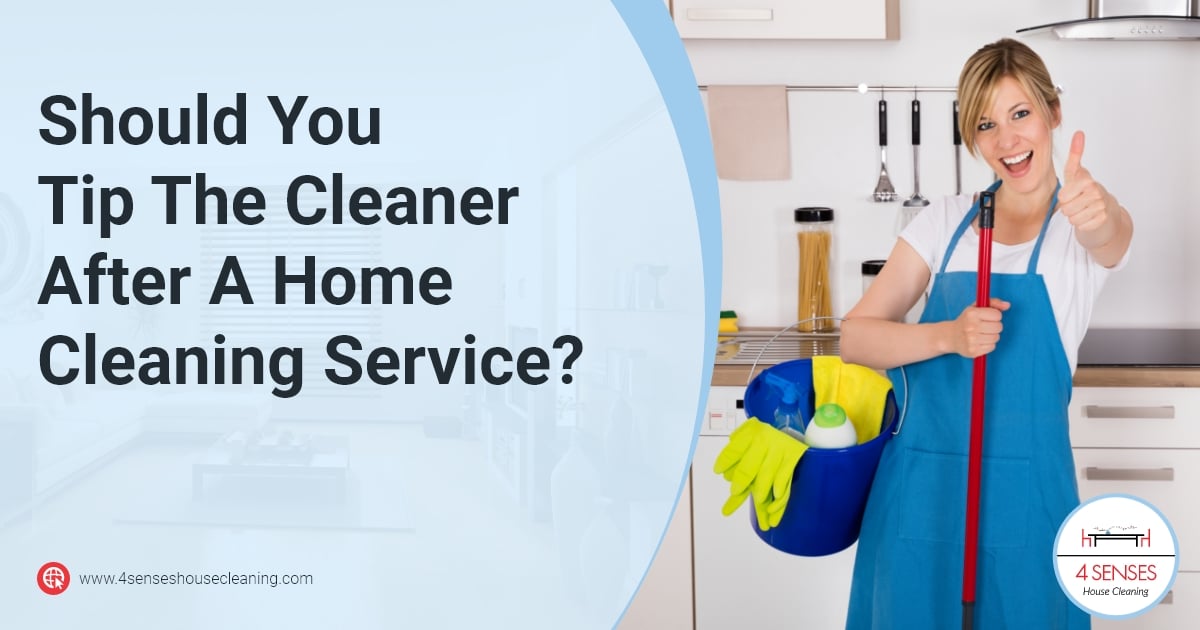 October 11, 2021 12:00 pm
If you were in a fancy restaurant, would you tip the waiter or waitress? In some types of services, tipping etiquette leaves no doubt. However, are you supposed to tip a house cleaner? 
There is no strict rule for tipping after a cleaning service. However, a tip could work as a reward for a well-done job or a way to say "thank you." 
Do you want to make sure you are giving an adequate tip to your home cleaner? Learn everything you need to know here!
Is tipping necessary for a cleaning service? 
Although sometimes it may feel mandatory (for example, in restaurants) tipping should always be voluntary. Tipping has a long history as a custom, and let's just say that tip-based jobs are not the best. 
However, tipping is not bad in itself. 
It could work as a reward for professional cleaners that go the extra mile or as a way to show gratitude. However, it doesn't mean that tips are the only way to show appreciation. There's nothing wrong with not tipping. After all, you are already paying for a high-quality service!
In a few words, tipping should never be necessary but always well received!
When can you leave a tip? 
If you are on the fence about leaving a tip or not, the following list of situations can help you decide. However, as mentioned above, it's entirely up to you to choose to leave a tip! 
Situation #1. After an exceptionally well-done job
When a cleaner goes above and beyond to make your home shine, leaving a tip is a way to reward them for the effort. 4 Senses House Cleaning expects its employees to deliver excellent service always, so this situation will often repeat with us!  
Situation #2. Near a holiday
You may not be strictly the employee of a professional cleaner. However, tipping near the holidays is a custom for some homeowners—especially if they've been with the same cleaner for a long time. 
If this custom makes sense to you, we can guarantee that 4 Sense's cleaners will appreciate it!
Situation #3. The condition of your home was a challenge
Many cleaning companies estimate the prices for a cleaning service upfront, based on the size of your home. However, your home might have especially challenging tasks. If you are concerned about it, leaving a tip could ease your mind!
Situation #4. Reaching your home takes time
For cleaning your home, the professional cleaner must reach it first! However, due to traffic conditions or location, some houses are more difficult to reach than others. If you live in a complicated area, leaving a tip could be a nice gesture!
Situation #5. You feel like tipping!
Perhaps the most important reason for tipping! If you feel like the professional cleaner deserves a tip, you should do it! The home cleaner will surely appreciate it!
How can you tip with 4 Senses House Cleaning?
When one of our professional cleaners in Madison visits your home, tips are never mandatory! We believe that tips should be voluntary, and we pay our cleaners enough to make a living! 
However, if you decide to leave a tip, the cleaner will appreciate it! You can give the cash directly to the cleaner. Or, if you prefer, you can log into your account and apply the tip during the booking process!
Read More Cleaning Tips:
Categorised in: General
This post was written by 4 Senses House Cleaning