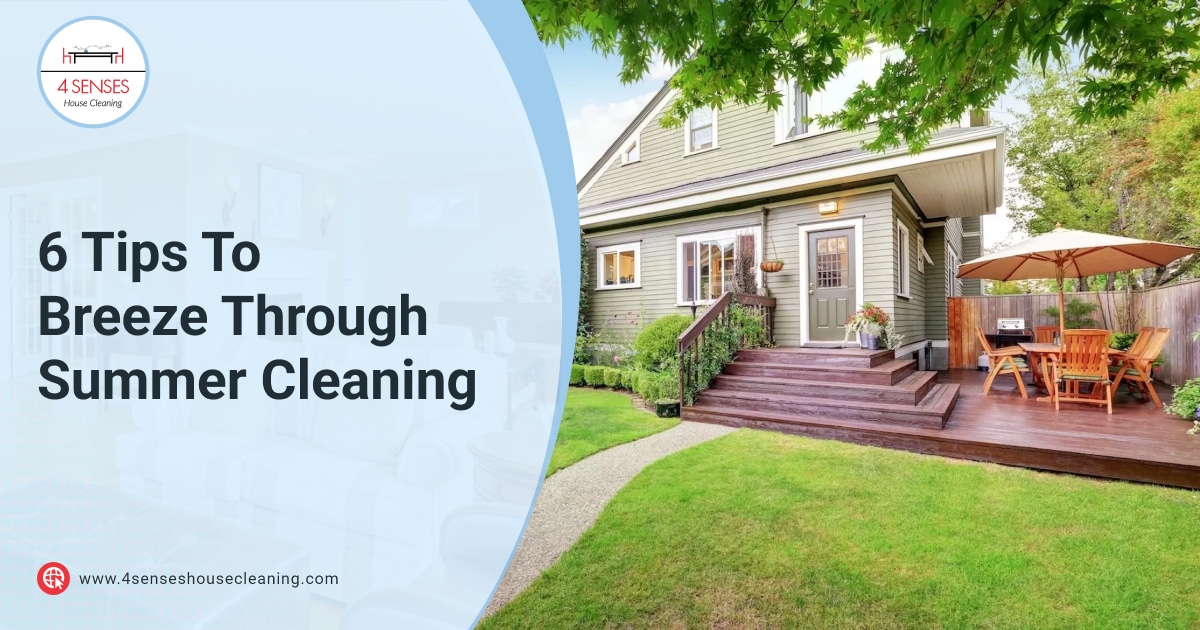 June 13, 2022 12:00 am
As the seasons change, so do our cleaning routines. While spring cleaning often takes the spotlight, we mustn't overlook the importance of a thorough summer cleaning. With the arrival of sun-soaked days, scorching heat, humidity, and occasional showers, our homes face unique challenges that require our attention.
Imagine a summer where you can fully embrace relaxation and fun activities, knowing that your home is well-prepared to withstand the seasonal elements. By addressing the specific needs of your home during this time, you can ensure a worry-free and enjoyable summer.
In this article, we've gathered six invaluable tips from the experts at Spring Cleaning Experts, renowned for their meticulous approach and deep understanding of seasonal cleaning. Discover their insider secrets to breeze through your summer cleaning tasks without any hassle or issues.
From safeguarding your home against the summer's harsh conditions to optimizing your space for leisure and entertainment, these tips will empower you to create a clean and inviting environment that complements the joys of the season. Get ready to transform your summer cleaning routine with the wisdom of Spring Cleaning Experts, and make the most of the sun-soaked months ahead.
Summer cleaning: not as complicated as you thought
Contrary to spring cleaning, summer cleaning can be more about specific chores. So you won't be rearranging your entire home for these tasks. Summer is here, and you'll be relaxing in the blink of an eye!
Tip #1. Get your patio ready
Your patio is a perfect spot to spend the warm summer days, whether alone or accompanied by friends or family. To leave it just perfect, dust the furniture and apply the adequate solution to clean it, then rinse it with a garden hose.
Here's a complete guide on how to clean patio furnishings by BHG. Check it out!
You can get rid of moss and lichen by sweeping your patio with a stiff brush. A riskier method to remove moss is spraying a mixture of warm water and bleach. Rinse after a few minutes with fresh water, and your patio will be ready for you to enjoy the sunny days.
Tip #2. Degrease your grill
Clean your grill by turning it on and closing it for 30 minutes; that way, stuck gunk will burn and fall off. For another cleaning layer, apply apple cider vinegar to the metal wiring and scrub it with a stiff brush or balled-up aluminum. Let it air-dry before putting it back in.
Tip #3. Clean the windows
How can you enjoy the summer sun with dirty windows? Make them see-through again with a solution consisting of one part vinegar and ten parts warm water. 
Pour it into a spray bottle and cover your window with the solution. Then, wipe the entire surface clean with a microfiber cloth. Rinse the area with a dampened soft cloth and let the summer heat dry your windows.
Cleaning the outside of your windows will be more challenging. If necessary, scrub stubborn stains with a kitchen sponge. 
Tip #4. Erase water rings
As you'll be enjoying a lot of cold drinks this season, chances are water rings will end up on many surfaces.
If you spot water rings on your wood furniture, remove them by putting a cotton towel over them. Next, plug in your iron and let it heat. Once heated, place it over the cloth a few seconds before removing it. Repeat this process until the water ring is gone.
Tip #5. Prevent mildew
Warm weather and high humidity levels facilitate mildew growth, especially in areas with above-average humidity levels. Prevent this by frequently wiping areas prone to mold growth and letting the doors and windows open to create an adequate airflow.
Let us help you while you enjoy the summer!
We know you prefer summer relaxing over summer cleaning. Hire us and enjoy the sun! At the best cleaning services in Madison, we deliver top-quality services for your home, from standard to deep cleaning.
Categorised in: Cleaning Tips
This post was written by 4 Senses House Cleaning