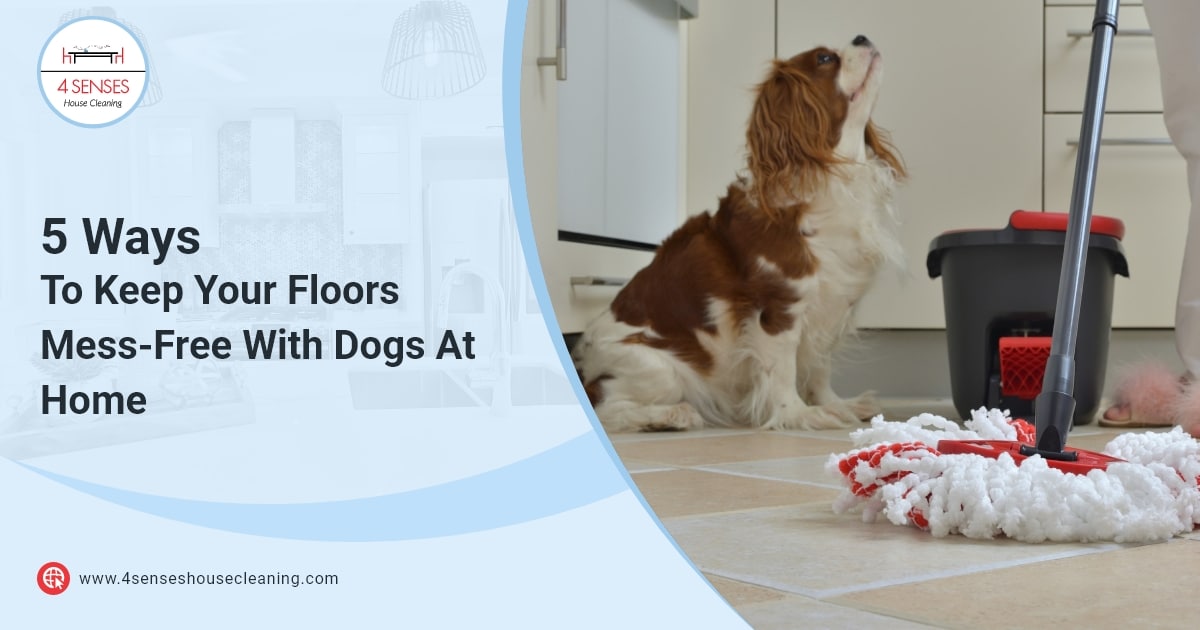 August 14, 2023 12:00 am
Every homeowner with dogs at home knows the struggle that is trying to keep their floors clean—it seems impossible! However, once you start putting the following tips into practice, you'll notice how easier it will be to keep your floors clean for longer.
Tip #1. Set a regular grooming routine
The good 'ol trick of grooming your pet. It may seem basic, but it's worth mentioning because its effectiveness is top-tier. Besides your dog feeling better (grooming is beneficial for its health), cleaning your floors won't be as cumbersome as before.
Set aside some quality time for grooming, like brushing or giving your pet a refreshing bath to keep the shedding in check. It won't take long before you notice the difference on your floors!
Tip #2. Clean your dog's paws after walking
If walking your dog is part of your routine, you know how easily dirt can enter your home through their paws. So, cleaning your dog's feet before entering your place is a simple yet effective way to tackle the issue.
Grab a clean cloth, dampen it with some water, and give those paws (and the space between their toes) a gentle wipe-down. This quick paw maintenance routine won't take more than five minutes and will save you from a lengthy floor scrubbing session later.
Pro-tip: Opt for pet-friendly wipes or gentle alcohol-free towels to keep those paw pads cleaner and healthier.
Tip #3. Promptly tackle your dog's mishaps
Addressing "uh-oh" incidents right after happening prevents a bigger and harder-to-deal-with mess later. Take urine, for example; it can become sticky, smelly, and ingrained when left to simmer for an extended period.
Granted, you won't always notice them immediately, but when you do, remove them ASAP. Just keep in mind that the cleanup process and products vary depending on the affected zone—using adequate products will give you better results!
Tip #4. Make an exclusive feeding zone
If you have a messy eater for a dog, you know trying to change how they munch their food is not an easy task. What you can do (much more easily) is to designate and accommodate an area for your dog to eat.
We recommend picking a corner as the zone where you'll place your pet food and water bowls. The walls' position in corners acts like a mess guard limiting where your dog's food ends up. Also, you can consider getting a non-slip silicone mat to prevent food fiascos from spreading too far.
Tip #5 Consider investing in pet-related cleaning products
You can't be everywhere at all times, so, sadly, you won't be able to notice every stain right after it happens. Be prepared and consider investing in specialized products. Think pet vacuum cleaners, lint rollers, or spot removers designed to take down pet messes with ease.
Also, if you're a busy person with little time to spare, a Roomba (or similar autonomous vacuum cleaner) could be a great addition to your cleaning arsenal. Your investment will pay its worth when you save countless hours of unnecessary effort and stress!
Get the best cleaning tips to keep your home pristine!
We'll help you keep your floors fur-free and the rest of your house spotless! Take a look at our blog for a hoard of pro tips to make your cleaning routine a breeze—we even have tips for cleaning your rugs and carpets from pet hair!
Categorised in: Guidelines
This post was written by 4 Senses House Cleaning